Moris Tepper : Interviews
Moris Tepper : Live Reviews

Album Reviews:
A SINGER NAMED SHOTGUN THROAT
STINGRAY IN THE HEART
HEAD OFF
MOTH TO MOUTH
BIG ENOUGH TO DISAPPEAR
eggtooth : SUNDOWNER

New press links:

Link here for Uncut Review, published July 2010.
Link here for amaericanaUK Review, published June 21, 2010.
Link here for the London Sunday Times review, published June 17, 2010.
Link here for Mojo Magazine Review, published August 2010.
Link here for Rock N' Reel, published July 2010.
Link here for the Big Cheese review, published July 2010.

Link here for the London Sunday Times review, published January 4, 2009.
Link here for L.A. Record Review, published November 2008.
Link here for Word Magazine Review, published 2008.
Link here for Subbacultcha Magazine Review, published 2008.
Link here for Mojo Magazine Review, published 2008.
Link here for Q Magazine Review, published 2008.

Link here for L.A. Times' Pop Music Review, published 2006.
Link here for MOJO's 4-star Review of 'Head Off,' published 2004.
Link here for Now Toronto's 'Music Feature,' published October 14, 2004.
Link here for the Irish Press's 'Head Off' and Concert preview, published July 15, 2004.
Link here for Pitchfork's 'Head Off' review, published September 23, 2004.
Link here for NME's review of 'Head Off,' published 2004.

Recent online links:

Head Off CD review from Treblezine
Head Off CD review from the Portland Tribune
Live review of the PJ Tour 2004 from toomuchrock.com
Feature from 2001 in Westword


---
Now Toronto's 'Music Feature' October 14-20, 2004:
Tepper wear: Biz-weary guitar ace thrives indie-style
by Tim Perlich

As the guitarist of choice for Tom Waits, Robyn Hitchcock and Frank Black among others, Moris Tepper has made a respectable living as a creative sideman since graduating with honours from the travelling Captain Beefheart academy of the absurd.

He's proven his skill at tastefully using distortion to make his celebrated employers look and sound good, but the man formerly known as the Love Hunter has had a tough time shaking the guitar-ace-for-hire stigma.

It's really only been since the 2000 release of his self-produced Moth To Mouth disc that many people, his musician peers included, have started taking Tepper seriously as a solo artist.

So what happened? According to Tepper, it was a matter of rethinking his career goals. He gave up his major-label aspirations and set himself up as an independent entrepreneur with his own Web site, www.candlebone.com, and a home recording studio that led to fundamental changes in his approach to writing and recording.

And all it took to set Tepper straight was having his home burglarized.

"For years I'd been working as a musician in Los Angeles, trying to get on a major label like everyone else," explains Tepper during a stopover in Philadelphia. "I'd had three bands that lasted three or four years each without any real label interest.

"While I was out on tour, my distributor went bankrupt, which was bad enough, but then I got home to find that my home had been broken into and my computer stolen. My entire database, with all my contacts, was gone, and there was no backup. So I decided that was it - I quit the business. I didn't make any music for a year.

"Eventually, I felt inspired again and the song ideas started coming, only this time there was no commercial intent. I got into digital home recording, and the result was the Moth To Mouth album. Suddenly, artists I respected were much more receptive to what I was doing. Something definitely changed. I think my music had become purer in the process."

Moth To Mouth touched off a small buzz for Tepper, largely among fellow musicians (Polly Harvey asked Tepper to open shows for her solo based on hearing the album), but his forthcoming Head Off (Candlebone) disc could be his long-overdue breakthrough.

Recorded quickly by Tepper as a three-piece with drummer Scott Mathers and bassist Dave Burk, the rough-cut Head Off roars with that Beefheartian blues looseness that Tom Waits tried so hard to replicate on his Real Gone disc but wound up making a mess of instead.

No doubt part of the interest in Tepper's Head Off will be the track Ricochet Man, co-written with the reclusive Captain himself, Don Van Vliet, who hasn't released any new music in 25 years. Van Vliet's characteristically oblique lyrics were evidentally inspired by events surrounding the troubled life of Arthur Lee, formerly of Love.

"Don and I talk on the phone every week, so as I was recording the new album he was in on it, listening to new tracks as they were finished. I had a song where I wasn't really happy with the lyrics I'd written, but he loved the backing track.

"While we were talking one day, I mentioned that I'd run into Arthur Lee at a studio. When Don asked how he was, I told him how Arthur had been in jail for three years for firing a gun in his apartment while no one else was around. Right then he started coming up with what became Ricochet Man. But that's not unusual. Each time I talk to him he's singing something or reciting a new poem."

It sounds like an album waiting to happen, but Tepper doesn't seem overly eager to push ahead with a full-on Captain collabo concept. That's understandable considering Tepper is only now beginning to make a name for himself.

"I guess there's a chance of doing a collaborative album," allows Tepper as if the idea had never occurred to him. "We've done enough stuff together over the past 10 years that we could easily fill up two or even three records.

"Right now I'm pretty involved with what I'm doing, and likewise with him, so it isn't something we're working toward. But should we decide to do something, the material is definitely there."

LA Weekly's 'Pick of the Week' February 2 & 3, 2004:
Moris Tepper, John Frusciante at the Knitting Factory

Moris Tepper studied beside his boss Captain Beefheart for many years as lead stringed-ax grinder. His music shares the murk 'n' mud and Dada ditties with Beef, but now Tepper's Catskills-on-peyote humor, soul-man vocals and scalding yet loopy guitar playing is center-staged. His superb forthcoming album, ''Head Off,'' is an avante bonecrusher that features a couple of dark death lullabies plus a song co-written with Beefheart called ''Ricochet Man'' (the Cap's first collaboration in 35 years, and first new tune at all in 25 - for those counting). Headlining are Performance 3, an embryonic experimental trio featuring John Frusciante (guitar, vocals), Joe Lally (bass) and Josh Klinghoffer (drums, vocals) who are performing material written specifically for tonight's set. Musicians can soar when walking a tightrope, so these vets of the Red Hot Chili Peppers, Fugazi, Beck et al. should deliver. Also Tues. (Michael Simmons)

LA Weekly's 'Pick of the Week' February 20, 2003:
From the July 30, 2001 edition of musicplayer.com :
Busted guitars and spectacular sounds

By Chuck Crisafulli

If it can be considered one of a guitarist's highest achievements to find his own sound and his own distinctive approach to the instrument, then iconoclastic axeman Moris Tepper deserves some kind of Medal of Honor.

Tepper first lurched onto musical radar screens back in 1978, as an 18-year-old guitarist at the center of the second lineup of Captain Beefheart's Magic Band. Tepper was a college student in Northern California when a chance meeting with the Captain led him to move into the house next door to the Beefheart pad. Beefheart had largely stopped making music and had dropped his moniker in favor of his given name, Don Van Vliet, and was concentrating on a painting career. Tepper also wanted to paint, but in his spare time he used a turntable, a 4-track reel-to-reel machine, and a Stratocaster to untangle and reproduce the guitar work on such Beefheart classics as Trout Mask Replica. When he played the resultant tapes for Beefheart, the Captain was delighted enough to reconsider putting a band together around Tepper, and after Beefheart finished his guest star work on Frank Zappa's Bongo Fury tour, he summoned Tepper to Southern California to become part of a new Magic Band. Remarkable music ensued, and on the albums Shiny Beast, Doc at the Radar Station, and Ice Cream for Crow, Tepper demonstrated himself to be a player of phenomenal touch and range, capable of pulling both delicate melodies and enlightened dissonance out of his trusty Telecaster.

From that heady beginning, Tepper has gone on to make more remarkable music, both with his own bands and in league with such potent cohorts as Tom Waits, Frank Black and Robyn Hitchcock. Tepper toured and recorded extensively with Waits during the Frank's Wild Years period, and most recently contributed work to Black's Dog in the Sand album, the latest of many collaborations with the former Pixie.

Rather than become an avant session player of choice however, Tepper has put his heart into his solo work. He has helmed a number of different types of groups, from the folk-rock-oriented band that created 1995's Big Enough to Disappear (recently re-released in Europe on Proper Records), to his work with Eggtooth, a sprawling acoustic ensemble he created that featured horns, hurdy gurdys, marimbas and ethnic percussion. On his latest release, Moth to Mouth -- available through Candlebone Records -- Tepper has shape-shifted once more and created 24 tracks of mind-grappling music that ranges from quiet works of stunning beauty to electric blasts of post-Beefheart mayhem.

In his Southern California home studio, surrounded by vintage keyboards, well-worn guitars, banjos, mandolins, a Chinese erhu and a MIDI setup currently running Reaktor synth software, Tepper spoke openly about the plucks and bends of his varied career.


---


You've got an amazing range of instruments in your home studio. What's your guitar of choice at the moment?

One of my favorites came out of a trash can. It's this weird, unnamed thing that somebody threw away -- it's got these ridiculous pickups that give you what I would call "the sound of mucus." That's the kind of thing I'm getting off on lately -- a busted guitar that sounds like spectacular shit. I don't really jones for a top-of-the-line Les Paul. I like things that play easy and sound shitty, particularly when they're detuned. I love that sound of wire strangulation -- the sound of baling wire around a sheep's neck.

You've contributed some fine guitar work to records by folks like Frank Black and Robyn Hitchcock. What guitar do you use in those kind of sessions?

At the core of what I do is a '54 Telecaster that Captain Beefheart picked out for me. It's got the original lead pickup, but I prefer the Stratocaster pickup on the rhythm -- it's a little hornier. And I've always been a fan of the Fender Super Reverb amp. That's the setup I'd most likely use on someone else's record.

Any pedals or effects you're partial to?

In live work I've always been the anti-pedal guy, and I still am. But for recording I've become a big fan of the Line 6 POD. I think in studios the biggest problem is always guitars -- and I don't say that just as a guitarist, but as a songwriter and a producer. Pianos, drums and voices can work their magic more easily, but with guitars you always get the biggest disappointment between the sound in the room and the sound on the tape. But what you can get with digital simulation of amps is just insane now. You pretty much get anything you need, and you miss maybe 10 percent of that depth and resonance of air rushing past your head that you might get in a $4000-a-day room with proper mics and heavy analog equipment.

On Moth to Mouth I was using a Peavey amp to get a kind of '50s Elmore James dirty blues sound. I spent hours miking the amp in proper and improper ways to get the most biting, horse-hair raising thing I could get, and I was pretty happy with the result. Then I picked up the POD, and in no time at all I had a blues sound that was so stinky and so fantastic it put all that other work to shame.

Captain Beefheart's Magic Band seems like a pretty incredible place to begin a music career. How do you think your work with him has affected you as a player?

The influence of his composing is very significant in my music-making process. I got a lot out of observing him and picked up a lot of little lessons that taught me to refrain from using my brain to order things. The intuitive approach plays largely into everything else I do.

I think there's a misconception that Beefheart's bands created music through wild improvisation, when in fact he wanted something very precise from all his players. How did you go about learning his older material when you began playing with him?

I had to use my ear. There was no written music at the beginning of my working with him. I was an 18-year-old kid with a record player, and I'd play his records and hear these chord clusters from two guitars, and I'd try to extract one. It was a huge lesson for my ear to find these very odd, tightly-compacted chord clusters that were mixed in with tons of bass and drums and sax and vocals. The end result was that I ended up with a really sharp ear, and I learned to approach the neck of the guitar in this very organic, unstructured way. That random learning of the neck helped develop some tremendous agility in my fingers.

Did you have to "unlearn" a more traditional approach to the instrument?

No. I wasn't a sophisticated young player with established patterns in my playing. I didn't have to unlearn my folk chords, though I did have to unlearn the feeling of fear when a musical knife was thrown at my face. I had to unlearn the "duck" response and learn to receive his musical information in whatever form or intensity he delivered it.

How closely did you work with Beefheart to come up with the actual guitar parts on records like Shiny Beast and Doc at the Radar Station?

In many cases there were tapes supplied with him playing piano. In other situations he would whistle -- particularly for solos or slide lines. He's a fierce whistler. He'd whistle like a bird, with tight, complex melody lines that he could repeat precisely. Later on, some things were transcribed by some of the other players. And in some situations I'd hear [lets loose a hellish growl] and he'd say, "Play that." I'd do my best.

How demanding a taskmaster was the Captain?

It started with him saying no to everything I played. No matter where my hands were on the guitar, he'd say, "You're humming C." I'd tell him I didn't even know where C was right then, and he'd say, "Yes, you do -- you're thinking of the Beatles." That happened a lot at first. He'd say I was "humming C," which meant whatever I was playing was too square for him. His way of cleansing me of "C" was to lock me in a broom closet for five hours with a cassette of Mississippi John Hurt's "Red Cross Store." I was in the dark, smelling janitorial chemicals and hearing that song over and over. It did the trick.

After your work with Beefheart, you put your own band together and your work became very song-focused, with little of the jagged guitar work people probably expected of you. Was that a conscious move?

Yes, I went as far away from avant-garde as I could get. I went for the most Beatles-y, Dylan-y, Neil Young, folk-pop thing I could get for five or six years. Slowly, my guitar playing got looser and the avant garde stuff started to come back in. At first I was very guarded about having that sound creep in. I didn't want to come out of the Beefheart band trying to sound like I was making more Beefheart music. I needed my own artistic identity I suppose. I'm a lot more comfortable with that identity now. I'm far less critical of my music-making process. I think that's a natural evolution for a songwriter.

You were tempted away from your solo career to become a member of Tom Waits' band during his Frank's Wild Years tour. What was that experience like?

As an arranger, Tom is miraculous. He'd put a song through 10 completely different changes -- the Civil War version, the reggae version, the German version. It was a huge amount of process to distill what he felt was the final version. I watched that closely -- the idea of giving a song some chances to try on different clothes to see what it looked best in. It was a brilliant way to work, and as a guitarist it was a tremendous and satisfying challenge.

Your latest work, Moth to Mouth, showcases a tremendous range of sounds and styles, from balls-out Beefheart style skronk, to some beautifully unsettling balladry. How did you go about putting all that together?

I'd spent my life thinking I needed to run from the sound of 4-track machines, whether 4-track cassettes or reel-to-reel. It always sounded small and plastic and rubbery. But I came to realize that I love that sound, and when I started recording again, I wanted that taste of rubber in my mouth. The songs started as demos -- they were things I did with one mic and a 4-track in my living room while David Letterman was muted. And the process of sketching a song began to grow powerfully. I had noticed that Picasso's sketches moved me more than Picasso's masterpieces, because you look at the sketch and you can smell the tobacco in his studio and feel his hand on the pencil. The sketch is the masterpiece. In musical terms, it's īnot getting crazy about re-recording things.' Also, I was able to step back from thinking of music as some form of commerce I was engaged in, and got back to the joy of the process.

Are you an advocate of "happy accidents" in the studio?

I've almost never had an unhappy accident in the studio. If I have, it's because I was trying too hard to go somewhere I thought I needed to go. Sounds a little Zen, but I really love those moments of numbskull wizardry.

You seem to nail quite a few of those moments with your live trio -- Scott Mathers on drums and Dave Burk on bass and keyboards.

Well, when I was putting this current band together I was looking for people who couldn't play. [Laughs.] Seriously, I don't really want to be among ''good'' players any more. I don't want the sound of someone elegant on their instruments -- I want the sound of someone drowning. My band auditions were less about musicality and more about finding kindred spirits.

On the other hand, you do have some pretty mean, if idiosyncratic, chops on guitar. Do you do anything to keep the fingers in shape?

I've learned a lot more by refraining from playing than from practice. I've just come through another period in my life when stopping did me so much more good than continuing. When you've been doing all the stuff you do, and you're not getting where you want to go, you need to stop. When I practice and practice and practice guitar, I start to feel that I can't get any better. If I put the guitar down for a month, when I pick it up, I'm coming from this whole different perspective and I feel like my playing grows in ways it wouldn't through practicing. Kids -- stop practicing. Put down the guitar and go feed your pussy.

The songs on Moth to Mouth may have started lo-fi, but they eventually worked their way through the high-tech home studio you've got set up here. Is the digital world treating you well?

Digital has had a huge impact on me. Being able to record cheap, easy and great by yourself in your home is just amazing to me. I used to be in old-school studios with old-school producers and engineers -- I'd be working with talented people who are sitting at some big old SSL or Neve boards. But those people were always between me and the sound I wanted, and no matter how I talked about the sound to them -- "give me a guitar sound with green envy," or "give me a guitar sound with erect nipples" -- I couldn't get there without getting my hands on the knobs. With a computer, I can go in there and be in control of the entire process. Digital has put the whole process in my hands in a quick, easy and graceful way. I only wish I was 13.

In the Studio with Moris Tepper:
The gear that gets the sounds

Line 6 POD: "One of the most powerful devil-boxes ever invented. The Line 6 DL4 delay box is also a wonderful tool that can help a writer become more spontaneous by playing over pre-recorded loops."

Antares Microphone Modeler: "This plug-in has an amazing range of sounds. I've used it to make an AKG 414 sound much warmer and deeper, more like a Neumann than an AKG."

Anteres Auto-Tune: "Developed for singers, but I use Auto-Tune on bass tracks or any other monophonic instrument that needs intonation help. It's saved me from having to call back a musician to redo tracks many times."

BitHeadz Unity: "This software takes away all the headaches of hardware samplers, like having to edit on the tiny LCD displays. I'm always looking for the most graceful way to integrate technology with the process of making music, and Unity is it for digital sampling realm. You can read all the popular libraries and make your own samples effortlessly."

TC Electronics: "Simply the best sounding reverb I've heard in the digital domain and easiest to use. I'm always trying other reverbs both hardware and software and I keep coming back to the TC Native Reverb VST plug-in for clarity, depth and control."



---
Interview with the Phoenix New Times, published April 26, 2001:
An Intimate Evening With Moris Tepper

For the listener, it's a genuine high finding a ferociously creative talent that few of your friends know about. You fetishize the records, play them for your friends ("You gotta hear this"), and, if God is good and the ferocious talent rolls through your town, you drag all your like-minded acquaintances out to the gig so you can show them in person what the hell it actually is, this exquisite thing you've been babbling about.

For the ferocious talent him- or herself, it can be a tremendous pain in the ass. Here's a lifetime of work built up, credits and kudos to boggle the mind, album appearances for days and a word-of-mouth reputation that brings name talents a-dropping their calling cards at your doorstep . . . and you're still selling your own albums through mail order, lugging boxes of your own CDs to gigs to make the rent.

California-based jack-of-all-stringed-instruments Moris Tepper has been one of contemporary music's worst-kept secrets for just over two decades now, but for a moment let's give a pass to all that. Forget about the credits which begin in his barest youth, with three albums' worth of avant-guitar in Captain Beefheart's second Magic Band incarnation, and end (most recently) with Frank Black's Dog in the Sand, from January of this year. Forget about his stellar work with Tom Waits, P.J. Harvey, Robyn Hitchcock, and so on. Forget about the paper trail of accolades from BAM, the L.A. Weekly, Music Connection, the L.A. Times, Mojo, The Wire, Option, Alternative Press, Goldmine, and the San Francisco Bay Guardian (and the list goes on), all of which play one familiar note: Moris Tepper is a stone righteous musician.

Forget about all that, and listen to his two solo projects, Big Enough to Disappear (1996) and Moth to Mouth (2000), available at Tepper's shows, in finer record stores, and from www.candlebone.com.

Tepper inhabits a noisy, chaotic, fuzzy, utterly beautiful musical landscape entirely of his own creation. The L.A. Weekly calls him "a jewel"; BAM starts its evaluation at "amazing," and proceeds from there. When Tepper and his band swing through town, everyone who shows up gets tickets to the carnival, and a sweet and spooky place it is, indeed -- full of loud sounds, bright lights, and music that's as lively and cantankerous and joyous as it is heartfelt and hopelessly romantic.

You want creative? You want anger and lust and humor? You want a highly unconventional conversationalist and raconteur? At the risk of giving up one of our prized secrets: You gotta hear this.

New Times: What are you reading lately?
Moris Tepper: A lot of technical manuals. Also, I'm just now reading Miles Davis' autobiography; that's a wild kick. And more manuals.

NT: Manuals?
MT: Yeah. Do you wanna talk about gear?

NT: Okay. You're using new technology in the studio these days; what are you finding you can do that you weren't able to do before?
MT: Well, you know, I did an entire record [Moth to Mouth] that was heavy on the gear, and I'm getting more into it now. You can keep going deeper and deeper into software that does different things. I've been working lately with the SP808 synthesizer from Roland, and with Reactor, and with Acid [sampling] software on the PC side. The changes I'm going through now are ways of stretching time and pitches; using multiple platforms, PC and Mac together, to achieve new ways to deteriorate the audio. Or, you know, twist the sound. It's like being able to solder a nose onto a kneecap. But even with all the gear, I'm beginning to really enjoy working with natural sounds. I've been carrying around a little digital tape recorder with me for like the last eight months. I've been singing into it, been recording insects, bushes . . . fights between people, loving conversations between people, random thoughts. Lately there's more of a consciousness in my process to employ the natural universe around me as it occurs, as part of my . . . my pastiche.

NT: Deteriorate the audio?
MT: Right, right, right . . . Even more than on Moth to Mouth, I'm trying to bring the sounds of the universe into the things I create, and it's like opening a very big hole.

It's weird, the more times that I've done this and then walked away from it, and then come back to it and done it again, I find that I'm not an artist who every minute thinks about making a record. Stuff happens organically. Like for the last four or five months the band has been learning a couple of new songs a month, but it's only been all of a sudden that I've kind of realized, "Well, I'm making a new record." It's like I keep trying to run away from what I know, and every time I get there it's still me, anyway. I'm writing again, writing kind of heavily; I write and then I go out into the world and I come home and I want to write some more. It's exciting and it's also scary.

NT: The last time you came through Phoenix you played acoustic guitar throughout the show, so it's kind of weird to hear you talk about using technology to "deteriorate" sounds . . . The set you and the band played last time seemed a lot more stripped down than usual.
MT: Well, that's something I'm not really conscious of, because it depends on the set list, plus I play through a lot of effects, and I play with the slide or whatever, so I don't even really think of it as "acoustic guitar," very much. But it's interesting what you say about the band looking like it was more stripped down, because there's a strong thing I feel to be true in the process. I'm a romantic; I love certain things and I don't want them to change. I don't want to see the sunset turn green, for example, even though I'm sure it'll be beautiful for the next generation. But at the same time, for the music to live, and for me to live on stage and not feel like I'm doing some kind of repetitive thing, I've gotta constantly be doing new songs, and constantly rearranging old songs.

So when you talk about the sound of the live show changing when you saw us last, that's the evolution. Or the de-volution, the deterioration taking place.

NT: I sat down today and played Big Enough to Disappear and Moth to Mouth back-to-back, and Moth to Mouth. . . it was so much more about controlled chaos, it was like it came from another time zone. I kept thinking, "What happened to this guy in five years?"
MT: And the songs we're doing now, it's almost like the same five years, only now it took place in five months. I think I'm really latching onto the process lately, and it's like the feeling of swimming in the scary, black, dark, ocean. And there's something in it; I feel like I'm about to open it up, like I can light it up and we're going to swim around in it, with it, and it won't be that scary. I feel like I'm about to peer into this precipice of darkness and go into it and bring whatever it is back. And it's big, it's bigger than before, and it's scary, and it's also really nauseating sometimes. [Laughs.] Never had that feeling before. That's the truth. I'm just digging that process of finding out what's happening as I do it.

It's like the birth of anything, and I feel like maybe I'm going to have to struggle to get it. Just go through the process of birthing this big, dark space. It's the anticipation of the power coming, and being the translator, the channel where it's coming through. If you believe in anything, it has power.

I'm far less egocentric about that process than I used to be. I used to think, like Ornette Coleman used to say, "God creates the music; I play God." I don't believe that, exactly, but I'm beginning to understand that it is me, that I can be something larger, and that's when the good stuff starts happening. When all I am is "Moris Tepper," just talking about it, I'm pretty dumb. It's pretty personal, pretty small. When I can get past this human brain, the songs are larger. They're me, but they're not wholly me, or wholly my creation. They're just themselves, and I put little wigs and coats and pants on them and make them walk a certain way, but they're actually from some other place. When I used to be more egocentric about it -- you know, "Will I ever be able to write another good song, am I really a good writer or am I just mimicking" -- I had less of an ability to understand that. I would be more apt to, in the process, try to control every single aspect of it to gain a power over it.

All I think I'm saying is the more I get to understand the grace of the process, the more able I am to say, "Yeah, it's not just Moris Tepper." When I become a soul, just floating, that's when the good shit really happens.

[Pause.] You know what? Shit. That sounds a little too much like a belief system. I'm not saying scrap it, but I'm not sure I believe anything I just said. [Laughs.]

NT: Well, here's the deterioration again.
MT: Yeah, man. Deterioration is magic, magic equals deterioration. Mortality is what gives everything its beauty. I really see that . . . like, vampirism is probably the most awful of all scenarios I can imagine. The beauty of everything is just gone. In your first year, when you realize you're immortal . . . how would you relate? I mean, it would be the most horrifying thing. Everything stays forever, there's no reason to be interested in anything. But that's the magic. The life- and-death cycle is the magic. The deterioration is the magic. The limitedness of each thing. The beauty and the magic of the universe is all within the limit of it, the deterioration of it. [Laughs.] Time is a nut case, man.

NT: So let's talk about the future.
MT: Let's talk about the future . . . There's very little hope for man, don't you think? For a poet, or a romantic . . . there's very little hope for a future that, ahh . . . favors insects.

NT: What?
MT: Insects, definitely. Yeah, that's a good theme. The future always favors change, and being the unit that can effect change most gracefully. And humans aren't always as good at it as, say, a cricket. I'm not gonna say an insect's a machine, but the living unit that most resembles a living, changing machine is the one that's most favored in natural selection. I mean, I look at animals for examples of how I should be. I look at the animal world, and that's where I draw my religion, my morality from. Like these tortoises here at my house . . . I think when we last spoke the tortoises were up, and they've been down in hibernation for six months, and now they're up again, and they're grooving hard. They're heavy creatures. They're sensitive, and they're very deep. They follow me around; when they hear my voice, they react. It's pretty cool. I love animals, and there's always that feeling of intense pain when they die, and tortoises seemed like a way of ensuring that wouldn't happen, you know? They're going to live beyond me.

So I guess all I'm saying is, if we're talking about the future, I'm investing in insects. In my dad's day, it was aluminum siding. Today it's insects.

I lost all my money in E-Toys, anyway. I'm putting what's left into insects.


---
Interview with the Phoenix New Times, published August 3, 2000:


...continued...
So two years ago, Tepper stopped.

"I was trying to force the music into a position where it would also pay my rent and support me. Really, I was saying, 'Okay, art: Make me money. I'll even do things that aren't fun, so you can make me money.' And that doesn't work -- no, I should say it didn't work for me at the time. So I changed; I quit doing what I was doing. I moved away from where I was living at the time, I stopped playing every weekend and I slowly built my own studio. And eventually I started playing out again, solo performances, and I started learning the studio I'd put together. And you know what? I got out of the way. I let the music come through; I didn't think about it. What you hear on that album, you're not hearing songs that have been worked and reworked from demos, you're hearing me on my four-track at three in the morning, with some other overlaid tracks, bass and percussion -- great percussionists. I'm working with these guys who take sheets of metal, they've got pickups attached to them, they get that trash-can sound I like so much, and Miiko [Watanabe, of Maypole, Holly Vincent, and the Martinis, among other outfits] plays some bass. I've played with her for years . . . she really understands that fat-ass, hard-dick bass sound I want, and . . . you know, I'm not talking about sex at all -- well, I am. I am talking about sex. Sex and murder. And I don't have any murder in me at all, man, you know? But there's something about those two concepts that we ignore in life. And we can't get away from them: Sex and death are inevitable. We try to get away from our birth and avoid our death at the same time, and it's impossible to do that."

Pause.

"I don't know if I'm explaining this well."

Reread that last paragraph: Conversation with Tepper, a born raconteur, ping-pongs around exactly like this from start to finish. It's like taking a longcut to an old haunt; if you trust his instinct, which is formidable, you'll eventually get to the swimming hole. But along the way you'll get led through the bracken and the thorny shrubs and you'll be picking weird leaves off your clothes by the time you reach the clearing. Almost before you know it, however, you've arrived.

In fact, Tepper is explaining himself well, though his rap resists transcription or excerpting precisely because he backtracks and corrects and contradicts himself so often, reluctant to fix himself, his body of work or (today) his new album within the confines of any flip phrase.

"It took about six months to put it together," he says of Moth to Mouth, the album that emerged from Tepper's two-year hiatus and slow comeback from burnout. "This album is, almost in entirety, nothing but sketches, and . . . but the word 'sketch' carries a bad connotation in this society, in our dialogue. What I mean, Moth to Mouth represents that first burning-flame vision, before you turn the vision into something you're thinking about, before you make it into an intellectual process."

To his credit, when you hear him drop a phrase like "that first burning-flame vision," it doesn't sound like Tepper's blowing smoke; it doesn't even sound affected. Tepper describes his music differently from one minute to the next, in a way that suggests he tries out words like he tries out sounds, auditioning different combinations to get the vision across (later on, he'll call the album "the sound of a pirate-miner ship").

It stands to reason that Tepper would be anxious to talk about his own music, of which he's rightfully proud. Much has been made about his long association with creative visionaries like Beefheart and Waits, and he answers those questions gracefully, but you can sense the slight frustration when he says, "For a long time, the people who knew about me knew about me because of that element, Beefheart and Tom Waits and Robyn Hitchcock and all. Now it's getting to where people know about me as me, for my music. And I really have a lot I want to say about the album."

Moth to Mouth is, actually, pretty accurately described as a burning-flame vision. Tepper played most of the instruments himself, seeking out other musicians to get sounds he couldn't produce or that would only come through another player's specific abilities. Swinging wildly from nightmare landscapes like "Buckets of Blood" and the warped country two-step of "Gonna See Her (Sometime)" to the scratchy instrumental "Fat Sandy" and the aching sadness of "Impossible Things" and "The Palm of His Hand," Moth to Mouth is a solid and cohesive piece of work, despite the fact that no two tracks sound alike. Some of it plays like a static-washed phone message from a distant friend you don't see anymore; other cuts are full-on percussion-heavy distortion grooves.

Taken entire, though, Moth to Mouth sounds mostly like a home recording from a far country just after the war, where traveler's insurance is a bad joke and the locals gather in empty fields with beaten-up stringed instruments -- dobros, banjos, slide guitars -- to trade stories and preserve their history (forgive the opulent metaphor: Talking to Tepper messes with your syntax even hours later). Most important, when you listen to Moth to Mouth, you don't hear a Waits ex-sideman or a former Beefheart axe suddenly taking center stage; what you hear is familiar noise in an undiluted form. Moris Tepper knows what he's doing, and listening to his new album makes it clear just how much he contributed to the sound of albums like Frank's Wild Years and Doc at the Radar Station, even if he's quick to give respect to his mentors.

"When I first walked into the studio with Captain Beefheart, it was scary. I mean, it would have been scary if it'd been Barry Manilow. I was just out of high school, working with a professional musician on a studio budget. But when you watch a great artist at work, unless you're retarded, you're going to learn something. And Beefheart was the greatest teacher I've ever had. He taught me, above all, that brain has no business in art. It has a lot of business in the business end, the budgeting and all that, but art is about letting things through, and when you get brain involved, you're no longer doing that.

"Now," he continues, warming to a topic he'll vibe on for the next hour, "that sounds really easy, like, 'Just turn your brain off and you're an artist.' No: You have to have heart; you have to have had a lifetime of experience, and have had that change you in significant ways; you have to make connections with people and learn to listen to everything. I think we can all -- musicians, everybody -- learn to hear all those voices that surround us: angel voices, devil voices, insect voices, wolf voices, all the natural and synthetic sounds in the world, in the universe.

"And you know what? If I hadn't learned that from Beefheart, I might have learned it from looking at a palm tree, three years later. I'd already been going down that path, I'd been painting and writing since I was a kid. We all have the potential to do it, hear those voices. You have to allow it to come through.

"I'll give you an example: I was talking to a friend of mine who pointed out that on Moth to Mouth there are three songs that center on a loss, a loss which somehow involves blood, cars and something coming down from a mountain ["Frankenstein's Daughter," "Buckets of Blood" and "The Palm of His Hand"]. These songs came out completely independent of each other, and I didn't plan that. But there's something coming through me in a case like that, I don't know . . . maybe it's someone I'm going to meet, maybe in the future. I don't know who she is, but I'm telling someone else's story."

Whatever might be coming down the mountain to meet Moris Tepper, he doesn't seem to be afraid of it. In fact, from the yard at his home, what he can see is "blue skies and bamboo, man. I have two tortoises, a cat named Rooster and a parrot, and every evening we come out here and sit. I've got such a nice life now, so much better than when I was running around worrying about trying to get someone to respect my music financially. I'm grateful. I'm so grateful for everything I've got, you know?"

Even as he's being pulled in a thousand directions at once, producing and engineering for other people and the like?

"Yeah, sure. We have to pay the bills and the rent and we have to survive. And sure, I'd love to be able to work on my own stuff and never have to worry about doing anything else for money, but I don't think it's ever going to happen. But man, it's okay. I've got to be open and trust the songs to come through. Working in my own studio, with no budget or engineers, I can do that for my own music and not worry about whether I'm communicating what I want to an engineer, or whether what I'm hearing is what someone else is hearing.

"Working with these musicians for the tour, especially, I have to rehearse 100 times over, because you want to keep the integrity of the music you think is so bitchin', but you also want the humanity of those players to come through in performance. Every one of those 100 times is more pleasurable. It sounds like people who care. That's why we always leave some time during the performance where nothing's written, where we can write on the spot and that humanity can express itself.

"I'm telling you, man, it's a beautiful experience."

Moris Tepper isn't home yet. Or maybe he is. But wherever he's calling from, he's having a hell of a good time.

Originally published August 3, 2000 in the Phoenix New Times.


Originally published Friday, May 19, 2000 in the Stockton Record, Stockton, California:
Not in or out of bounds
Former Captain Beefheart guitar player gleefully brings new music
to a Stockton band he's never met
By Tony Sauro, Record TimeOut Editor
Moris Tepper has toured and/or recorded with Captain Beefheart, Tom Waits, Robyn Hitchcock and Frank Black. Still, he wanted to make it very clear that he's totally stoked about coming to Stockton tonight to play with a group of musicians he's never even met. Or, as he put it in typically Tepperian fashion: "I'm truly looking forward to this fun sort of metaphysical experiment. With glee."

Tepper, a singer, songwriter, guitar player and painter, toured for eight years and recorded four albums with the legendary Captain Beefheart (Don Van Vliet) and His Magic Band. He said he still talks to the reclusive 59-year-old painter-musician every day.

"Mostly animals," said Tepper, when asked what they discuss. "We both -- as you can hear, I'm making breakfast for my tortoises -- love animals. He screams at the crows at his house. He talks to the crows, feeds the raccoons. We're animal lovers and sort of human disappointers. We're very disappointed in us (people). There's a deep, deep connection between us."

Tepper also is connected artistically to Black (Charles Thompson), founder of the pioneering Pixies. He's helped him record three albums, including the forthcoming "Llano Del Rio." He helped Waits, the boho poet/experimentalist, record and perform (at Chicago's Steppenwolf Theatre) his landmark "Frank's Wild Years" album/performance piece. He worked with Hitchcock, the extremely eccentric British singer-songwriter, on his "Moss Elixir" album and toured with him in 1995.

Obviously, Tepper prefers pop-music oddballs who create outside the mainstream boundaries.

"I don't think I consciously pick any of them," said Tepper, speaking from his Mar Vista home, where he harbors those tortoises, a parrot and two cats. "They pick me to work with. I don't ever see anything as being in or out of bounds of anything. I know when I hear work that moves me and I feel comfortable with.

"It's about similarity. This sound. This noise. This emanation is something that resonates within me. 'Yes, I would love to work with it and be around it.' If it's something I can't relate to, obviously I wouldn't do it."

That sense of similarity brings him to Stockton tonight, where -- at the suggestion of fellow Los Angeles musician James Brenner and with the full-on encouragement of Black -- he'll relate to local musicians Gary Young (drums), Kelly Foley and Zach Silver (guitars and other stuff) at the Yosemite Street Cafe. Brenner will play bass.

Not surprisingly, they share an admiration for the bizarre avant-garde inventions of Beefheart and cohort Frank Zappa and create similarly off-the-wall music influenced by them. Tepper's excited about hooking up with Young, the former Pavement drummer who now leads a band called Hospital. He said he "loves" Pavement's music and thinks Young is a "great" drummer.

"Captain Beefheart is a god now," said Foley, also a member of Hospital and the Funky Citizens. "He spawned an entire movement. Gary and I are just weird. But Zach's the real aficionado. Zach was born and raised on it. Zach makes it a religion and bases his entire life on it."

They'll be pretty much improvising on some songs from "Moth to Mouth," Tepper's new solo album and the reason he's making the pilgrimage north.

Brenner, once a member of a Los Angeles-based band called Shiva Burlesque with Stockton's Grant-Lee Phillips and Lodi's Jeff Clark, suggested the collaboration. He's been working with Foley and Silver at Young's Linden studio on some music they've been recording as Toadstool Theatre.

Then, in a karmic bit of coincidence, Black phoned Tepper.

"Yeah," said Tepper, swearing he was telling the truth. "Frank Black called up and said, 'Let's go hang out up in Stockton.' I said, 'That's so weird.' He said he drove through there or something and it just felt so boarded-up and sorrowful. In a beautiful way. He said it was beautiful, somehow, in its desolateness. He said, 'I gotta come over. Call me and tell me where the gig is. I'm coming.' He's doing something up in San Francisco.

"So, it started to make sense. I'm looking forward to Stockton, man."

If you hang on tightly enough during a conversation with Tepper -- a mile-a-minute, idea-a-second, sometimes-hard-to-believe conversationalist who says "I'm being completely honest with you" a lot -- it starts to make sense. A little bit anyway.

While busily preparing a tortoise's equivalent of a vegetarian breakfast this week -- "Oh, dandelions, turnip greens, dandelion flowers, corn, carrots, zucchini" -- Tepper, questioning, editing, parsing and placing his tongue firmly in cheek, playfully told his life story. Sort of.

He said he's 37 -- which would have made him 16 years old when he first hooked up with Beefheart's band -- and was born in "Peashoot, Iowa." Right. Anyway. ...

"My father was a lover of Al Jolson," he said without cracking up. "The first music I heard was fake black music from a Jew. It wrecked me. I really dug 'swanee.' " Judy Garland and the Beatles also figured in the mix. Also, "I heard the Rolling Stones through my braces."

"Yeh, I'd go out and fashion a stick into the shape of a guitar and pick up a clump of, you know, dried-out wheat and put it on my head and pretend, like, I was one of the farmer Beatles," he said. "I was an agro-Beatle."

So, how'd you get to Los Angeles?

"What do you mean? I just got tired of having to feed the bovine," said Tepper. "I figured it was time to move where people wear shoes. Because there's nothing to do out there, know what I mean? It's pretty isolated. I just knew a couple of chickens. The wicked, sinful city called my name."

Actually, his family moved to North Hollywood when he was, "Oh, 9 or 10."

He said he never went to high school, "but I got thrown out of school without even going to school" when he performed a profane version of the Standells' "Dirty Water."

"I was making up really, like, bad words," he said -- again, without laughing. "I said 'f---ers' really loud and they turned off all the power and threw me out. Obviously, school was not for me. But yelling bad words into a microphone was."

You quickly understand why this guy and Beefheart/Van Vliet -- creator of what "The New Rolling Stone Encyclopedia of Rock & Roll" calls a "near-chaotic ... sort of modern chamber music for rock band" -- wound up on the same wavelength.

Tepper said he first encountered Van Vliet at a Los Angeles club in 1973. He complimented Van Vliet on his headwear -- " 'Hey, I dig your hat. It reminds me of a paper cup at a water dispenser.' He said, 'Man, you've got a good eye for sculpture.' "

Van Vliet gave him a "really boss" little drawing and a bond was created.

Then, as Tepper tells it, five years later he was looking for a house in Humboldt County when he saw Van Vliet "driving around in an orange Corvette Stingray that really appeared to me as an orange pumpkin." He "creeped up" on Van Vliet -- "but not to creep him out" -- and they were reunited.

"He actually remembered me," said Tepper, who wound up moving in next door to the Captain. The original Beefheart band had broken up and been out of commission for a year. One day, Van Vliet overheard Tepper playing some songs from "Trout Mask Replica," a landmark Beefheart album from 1969.

"He almost started crying," said Tepper. "Like, 'Oh, my God, someone else actually can play that stuff.' "

Tepper wound up touring and recording with Beefheart's new band until 1983, when Van Vliet -- who has influenced Tepper's painting style as much as his music -- retired from music to concentrate full-time on painting.

Ask him his view of Van Vliet and the response is almost mystified and sacred in its incredulity and intensity.

"That's kind of like asking, 'What do you think of God?' " said Tepper. "He's the real deal. A wild animal. He learned to lose the human brain and let art talk through the vessel without the vessel trying to talk to the art. He learned immeasurable lessons in the process of allowing himself to express the truest sense of spirit without trying to stop all that with the human brain."

He diplomatically differentiates between Van Vliet -- who, along with Zappa, completely shattered conservative musical conventions in the 1960s -- and Waits, the Los Angeles-bred hipster and Beat poet descendant who now lives in Sonoma County.

"Captain Beefheart is an artist and composer," said Tepper. "A painter. Tom Waits is an actor, which is a very, kind of politically correct way of saying it. Waits is a great, great writer as well. But one accepts the clothes the song wears. One is constantly trying on different suits to see what suit fits the song. One's a composer. One's an arranger. You have to guess which one's which."

Not in the case of Tepper's new recording, which he characterizes as a sketchbook -- his first "real album." It was recorded on his own time in his own studio with no outside pressures from lawyers and accountants. He's releasing it himself and through his Web site (http://candlebone.com).

Van Vliet provides the intro on one track ("Frankenstein's Daughter").

"With no commerce involved, I just felt all these song babies in me," Tepper said. "That's created an entirely different feeling, created a more honest, complete, true reflection of me as an artist. It's like in an artist's sketchbook. What you get is the real essence of the human being who was there. It's a much more honest, real expression of that soul.

"It's the first time I've really been able to make a record the way I wanted to make a record. So, it's really my first record."

Tonight's show will be the first live performance of parts of it.

"It's gonna be loose," said Tepper, who sent the CD to Young, Foley and Silver. "At the same time, that can be better. It's just more relaxed, less close to perfection. It's 'Let's just try to have fun now.' "

"It's, oh boy, bluesy," said Foley of Tepper's album. "It has an alternative slant, for lack of a better word. I'd say it's definitely rooted in his avant-garde leanings. It's as pop as he's willing to make it at this time. It's his bid for a pop record, coming from the world he comes from. If William Burroughs had to make a pop album, it might sound like this."

Speaking of which, conjuring a suitably Burroughsian tableau, Tepper said he was working on a new painting recently when his live-in parrot starting popping off, seeming to mock his endeavor.

"I'm being completely honest with you," said Tepper, who said that a lot. "The parrot said to me, 'Hey, what are you doing?' I said, 'What the hell?' I looked over and said, 'I'm painting,' and tried to describe what that is. The bird cocked its head, looked at me and said, 'Why?' "

So, what were you painting?

"It's a painting of a room of monsters kind of getting involved in some pornographic activities and praying," said Tepper. "It's sort of a religious sexual monster piece."


---
MORIS TEPPER : LIVE REVIEW EXCERPTS [back to top]
L.A. Times' 'Pop Music Review' 20 February, 2006:
Dark, sonic spasms -- with PJ Harvey's assist
by Richard Cromelin, Times Staff Writer

It was hard to take your eyes off singer-guitarist Moris Tepper as he hulked around the small stage and conjured a mighty noise with his two backing musicians at the El Cid club in Silver Lake on Saturday. But the audience's attention was also fixed on Tepper's bass player - Polly Jean Harvey, a.k.a. PJ Harvey.

It's an unusual role for one of rock's most acclaimed and popular cult figures, standing modestly in the background and churning out the heavy, driving foundation for the jarring music of the L.A.-based Tepper.

But you can see why the Englishwoman would be drawn to this artist, whose background includes stints with such Harvey heroes as Captain Beefheart and Tom Waits, and whose spasmodic, cathartic, boundary-pushing music shares qualities with her own rock psychodrama.

"It's fun, but I wouldn't go out like this with just anybody," Harvey said after the show. "I'm a great admirer of his music and I wanted to support it. It's very dark."

Tepper, who is also scheduled to play this Sunday at the Echo as part of the ArthurBall festival, has his own, smaller cult after his prestigious associations and three independent albums. His more conventional moments Saturday sometimes suggested Frank Black (another frequent beneficiary of Tepper's playing), and sometimes the Stooges. The set included "Ricochet Man," a rare recent writing collaboration with the retired and reclusive Beefheart.

Harvey, her strapless black dress making her a glamorous contrast to the severe-looking Tepper, flat-picked simple, solid, aggressive patterns as she teamed with drummer Scott Mathers to anchor the leader's impulsive, unpredictable sonic spasms. Dark it was, but a good kind of dark.

Artist Spotlight: Moris Tepper
by Brian McDonald
You may not have heard much from Moris Tepper these days, but that doesn't mean he's been laying low. The guitarist - who made a name playing with left-of-center artists including Captain Beefheart, Tom Waits, Robyn Hitchcock, and PJ Harvey - has been gigging sporadically with his own band (see photo) and with Frank Black. (He's also featured on Frank's latest, Dog in the Sand).

In the past few years, Tepper's managed to generate a serious buzz on the underground circuit with his groundbreaking solo work. In addition to his renowned guitar work, Moris has also established himself as a stellar songwriter, singer, and producer. Moris' second solo effort, Moth to Mouth, was released last year on Candlebone Records. Moth to Mouth is an album replete with truly alternative musical experiences. It's not a collection of songs; rather, it is series of an intellectual raconteurs self-disclosure draped across a backdrop of complex, dark, noisy, yet beautiful, instrumental compositions. Moth to Mouth undeniably resembles nothing you've heard before, yet it succeeds in leaving a great aftertaste and the notion that something huge is on the brink for this artist. Frankenstein's Daughter, Moth to Mouth, Gorilla, and Fat Sandy are undoubtedly destined to become avant-classics. You can hear samples and read the lyrics at the Candlebone website.

The live experience adds yet another dimension to the genius that is Moris Tepper. The majority of the material comes from Moth to Mouth, although he is also including a few choice gems from the follow-up he is soon to begin recording. Moris had been playing with the same basic equipment since the beginning of his career: a slightly modified blonde 1954 Telecaster (picked out by Beefheart) and a 1960s Fender Super Reverb. Moris' Telecaster has a 60's Strat pickup in the neck position, a vintage Guild pickup in the middle position, and the stock Tele pickup in the bridge position. The Tele also has mini-toggle switches for each pickup. For electric and acoustic guitar, Moris uses a unique and somewhat symmetrical set of strings; .12 plain, .16 plain, .20 plain, .30 roundwound, .40 roundwound, .50 roundwound. Acoustically, using a plain G string is a trick that he learned while playing spell guitar for Captain Beefheart. It's something that works better with his slide work. Catch Moris, if you can. Photo Credit: John Perry
The L.A. Weekly's "Scoring the Clubs" from 13 June 2000 had this to say:


LA WEEKLY
Scoring The Clubs John Payne "Moris Tepper is an L.A. jewel. he's got songs, actual songs, and each one's a shiny model of craft and invention. These are sparkly, dark little tunes that tell peculiar little tales, and best of all, they poke you in the heart while gently nudging the boundaries of the pop sound palette. Tepper's willing to fiddle around with the most atypical instrumentation to get the sound he wants (big oafish tubas, for example), so you never know what to expect out of his live sets. You'll hear him pull off those unusual guitar lines (like he's just done on the new Frank Black album), and what strange sound color this band puts out; sort of a desert antique-modern, I'd call it, with a fondness for things that honk, tumble, wheeze and go chunka-chunka."

MUSIC CONNECTION
Club Reviews Tom Farell - +++++++++ (9 stars) Material: The best reason to check out the consistently amazing Moris Tepper band lies in their set list. From dirt-stompin' hootenannies to schnapps-hoisting cabaret songs, the band delivers each well crafted tune with demented energy and a great sense of fun. And because the material is so strong to begin with, it's a particular pleasure to watch the band get wild and weird on ravers like "Old Tin Can." Musicianship: A rare treat here. while all the players are quite competent, nobody is in this band to sport his chops. Every squeeze of the accordion, pluck of the banjo and whack of the cowbell was in service to the songs. The band's the thing, and each player worked hard this night to turn an ordinary club setting into a high-spirited hullabaloo. Performance: Tepper may not have pushed his guitar solos, but he held nothing back as a frontman. He seemed to break every rule of vocal training as he rasped and croaked out his lyrics with a distinctive, whiskey and iron filings voice. Despite the wide shifts in style throughout the set, the band never lost the crowd's attention. In fact, the energy in the room seemed to snowball right through to the encore, when a large portion of the packed room took to dancing with happy abandon. Summary: If you're depressed, disillusioned and on a tight budget, the best advice I can give you is to catch one of the Moris Tepper band's club gigs. If they can't cheer you up, you're in trouble."

BAM
Live In The Clubs Chuck Crisafulli "Tepper went ahead and delivered a night of entertainment that blazed with the kind of honesty, intensity, and humor that most of us local slouchers have given up expecting to find in the clubs. Tepper himself is a master of banjo as well as acoustic and electric guitars, and his distinctively gruff, honey-over -gravel voice brings extra texture to every vocal phrase. There's no denying that Tepper's "Mudpie" of talent springs from an original recipe. Satisfaction is guaranteed. You'd best get your ears to a club before some cunning A&R demon plucks this dirty gem from our midst.

LOS ANGELES TIMES
Friday, May 19 Jim Washburn After playing with two of the most determinedly individualistic musicians in the history of pop - Don Van Vliet, A.K.A. Captain Beefheart, and Tom Waits - It's only fitting that Moris Tepper's music bears no relation to his work for his former employers. His performance focused on his own stubbornly original folk-based songwriting. Tepper's faith in his songs was well placed. Tepper's songs used touches of Japanese koto music, skewed circus tunes, jug band music, Irish balladry and even an adapted anthem from the Boer War as a set-closer, but he pulled the disparate styles together into an impassioned package."

LA WEEKLY
Friday, May 13 Scott Morrow Moris plays acoustic guitar, mandolin, and sings in a heartfelt, gravely voice that had me drippin' drool on my chest because I didn't even notice how far my jaw was hanging down. The acoustic guitar and electric instruments blended gorgeously, the lyrics were intelligent and poetic, the songs seemed absolute works of craftsmanship, and the set was tinged with just enough Beefheart-style weirdness to make it quirky, but by no means a rip-off"

STROBE MAGAZINE
November-December Wendy Coulter "The Moris Tepper Band, which can shake the chandeliers, are made up of the most innovative players in town. This ever-evolving musical wonderland provides the perfect vehicle for Tepper's imaginative artistry and soulful vision. To describe his music is to describe a dusty roadside carnival, a pirate's sea shanty, a scratchy film noire with tubas, bagpipes and the occasional oud."

JAM RAG / The Detroit Music Scene
November 1995 Tom Schulte "Though Moris has very impressive resume material, it pales in comparison to the show. Every song into the set was a further step away from the stale rock approach and another jump into the exquisite madness of Moris Tepper. This was definitely the sort of show I can proudly say I attended, while others beat themselves for having stayed home."

LA WEEKLY
Saturday, October 12 "He's known to most folks for either his work with Captain Beefheart (he played on the last couple of albums) or as a sideman with Tom Waits (Frank's Wild years, I believe), but once you've seen him with his own band, playing his own music, you'll forget about all that stuff. In addition to his fine guitar-playing, songwriting and one-of-a-kind gravely singing voice, there's his unique band, quite unlike any you've probably seen before."

ARIZONA DAILY SUN
April 2 Brian Johnson "Some call him an enigmatic visionary.... It would seem roots music is where Tepper's heart is. Perhaps the most important aspect about Tepper is that it all starts with his love of music, and how that infectious enthusiasm moves him to different venues."

BAM
Who Was That Masked Man? LA's Unsung Guitar Heroes Chris Wilder "Tepper remains the master of avant-guitar. The amazing thing about Tepper's recent work is how easy it is to listen to. He's still capable of letting loose a cascade of oddly shaped notes now and again - but more and more, he has concentrated on using his guitar talents and his distinctively gruff voice in service to his songwriting."

TUCSON WEEKLY
April 6-12 Sound Bites Michael Metzger "Moris' electric guitar - a smoking, fresh weld of angular blues riffs and punk ferocity get bent into the wondrously weird shapes of sound made by him at Club Congress."

BAM
September 18 CC His demented pluckings have graced the work of Tom Waits and Captain Beefheart, and when you hear Tepper's band you'll realize that he was not just a prized sideman, but a major architect of the sound those estimable gentlemen achieved.



---
From Uncut: 'A Singer Named Shotgun Throat' Review, July 2010:

From americanaUK: 'A Singer Named Shotgun Throat' Review, by David Harry, June 21 2010:
The Outsider

It is as much an indictment of the state of our music industry as it is of Moris Tepper's sheer bloody-mindedness that new albums by Tepper are not greeted by parades and public holidays.

Having been an "outsider" since his first appearance in Captain Beefheart's later period Magic Band, (Van Vliet is responsible for the album's idiosyncratic title), Tepper has worked with many famous names in his career including Frank Black, Robyn Hitchcock, Tom Waits and PJ Harvey. That Tepper still requires this sort of introduction is becoming almost unbearable. Since 1997 Tepper has been writing music and producing abstracted artwork and videos through his own label Candlebone. 'A Singer Named Shotgun Throat' is Tepper's fifth album and represents a sort of culmination and natural progression for Tepper's solo career.

Tepper's first two albums were complex, sometimes uncomfortable experimental works that seemed to channel a desire to make as much strange noise as possible with a guitar and with some endlessly inventive percussion. Among the oddities, however, what was most surprising, particularly on 2000's 'Moth to Mouth' were the beautiful digressions Tepper took when writing more "typical" songs. 'Copperhead' and 'Impossible Things' in particular sounded like they'd been written by a Civil War era troubadour with a broken guitar.

Tepper's ability to find an outlet for his experimental guitar work in more traditional composition was further developed in 2004's 'Head Off', the title track with its energetic harmonica, shambolic guitar, distorted double bass and rickety percussion even made its way into an episode of 'Scrubs'. Another four years passed before 2008's 'Stingray in the Heart' which saw Tepper experiment more widely with electronic instruments and samples while continuing to interrogate popular songwriting conventions.

Thankfully breaking his traditional 3-4 year gap between albums, 'A Singer Named Shotgun Throat' was written in one day, recorded live and yet still represents Tepper's "straightest" and most accessible album. Though the thirteen songs on offer might feature a singer-songwriter and acoustic guitar they sound distinctively Tepper-esque and feature his inimitable vocal delivery and wildly erratic approach to playing the guitar. Turning to the Wild West for inspiration, this is Americana in the same way A Fistful of Dollars was a Western. Every sacred space, every hallowed technique and instrument is deployed and corrupted.

The album opens with 'Redemption Runs From Me' and we are immediately in Tepper territory. Tepper's tenure with Beefheart and Hitchcock has always inflected his guitar playing with a freeform approach to theory, choosing to play in a way that is entirely unconventional, dissonant and that doesn't recognise scales, chords, fingerstyle techniques. The messy blues of the opening bars break into an upbeat number with accompanying organ and piano, waltzing bass and percussion. Unlike Tepper's previous albums, however, this line-up remains pretty consistent throughout. Though Tepper's musical palette may be smaller, his imagination still runs as rampant as a bolting stallion. 'Pound of Flesh' recalls Tepper's penchant for songs that sound like meat rotting in the sun (check out 'Buckets of Blood' on Moth to Mouth).

'Indeed' features a piano and is arguably the most "normal" song Tepper has ever written, recalling Nick Cave's 'Lyre of Orpheus' period. Some unexpected chord changes keep 'Indeed' comfortingly strange. Other highlights include 'The Ballad of Shotgun Throat', an appropriately raucous drunken romp and the bravura whistling of 'Hang Me'. 'Dishonest John' is a beautiful piece of narrative songwriting and 'How Many Ways Can a Rich Man Die?' features a rousing Bowie-like chorus.

At first it might seem a shame that Tepper has taken the turn of so many legendary outsiders and found mid-life succour in acoustic alt-country. Like fellow renegade Michael Gira and his Angels of Light, however, Tepper seems to thrive on the limits of the genre. Iconoclastic and exuberant, 'A Singer Named Shotgun Throat' is accessible avant-garde Americana and must surely cement Tepper's place as one of the most distinctive and important voices in contemporary music.

Reviewers Rating: 9 of 10


From the London Sunday Times: 'A Singer Named Shotgun Throat' Review, by Stewart Lee, June 17 2010:


The guitarist Moris Tepper has ridden shotgun with all manner of mavericks, from Captain Beefheart to Robyn Hitchcock via Tom Waits. His new solo album defeats misplaced expectations of experimental extremity with 13 convincingly songwriterly nuggets.

"Redemption Runs from Me" rattles its acoustic guitar bracingly over wheezy keyboards, suggesting the late-1970s skinny-tie survivor Graham Parker; the skeletal blues riff of the cynically sneered "Promiseland" throbs enticingly; "Hang Me" throws gunfighter whistling over a loping, range-riding rhythm. This is a classy album - every song sounds like it should be playing over the credits of an HBO drama series.


From Mojo Magazine: 'A Singer Named Shotgun Throat' Review, August 2010:

From Rock N' Reel: 'A Singer Named Shotgun Throat' Review, July 2010:
From Big Cheese: 'A Singer Named Shotgun Throat' Review, July 2010: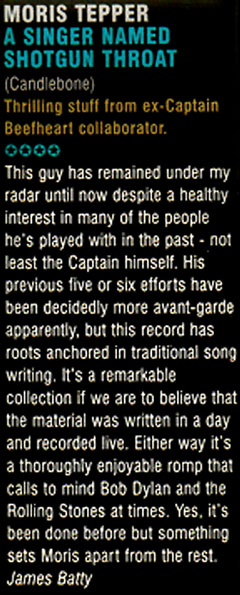 ---
From TimesOnline and the London Sunday Times: 'Stingray In The Heart' Review, by Stewart Lee, January 4 2009:
Moris Tepper started playing guitar for Captain Beefheart in the mid-1970s, though he isn't a member of the reunited Magic Band. Instead, he is a key collaborator with Tom Waits, the former Pixies front man Frank Black and Robyn Hitchcock. This is his fifth solo album. The Wolf King and Mescalito offer coruscating punk-blues stomps in the vein of his one-time paymistress PJ Harvey. Bell End is a dirty glam-rock boogie. How Far Away a Scar Is hides a prickly pop hook in surges of bristly guitar riffs. Tepper's laurels must be most uncomfortable - he seems entirely unprepared to rest on them.


From L.A. Record: 'Stingray In The Heart' Review, by Antero Garcia, November 2008:
Stingray in the Heart grows on you rather quickly. Nonchalant opening "New Mom" lets a guitar riff swagger across an innocuous rhythm line-drunken trouble out for a midnight stroll - and then the album swerves into "The Wolf King," a sure psychedelic staple had it been released thirty years ago. And just when you're ready to settle down for fifteen more tracks of the same, Tepper's off again for some new genre he's just invented. Stingray in the Heart never pauses in a familiar territory: the bent vocal Dylanisms of "Tables" morph into a southern-fried face melter, followed by a kind of alien neo-soul ballad. Though Tepper is widely recognized as a sideman, his long-term affiliation with Captain Beefheart and the Magic Band is most apropos to the feeling of Stingray in the Heart, which has an affection for spinning out of control then bouncing back with something even more unexpected. It might take time to fully explore to the new territory in Tepper's album, but right now this is bachelor-pad music for the impending apocalypse.


From WORD Magazine: 'Stingray In The Heart' Review, 2008:

From Subbacultcha Magazine: 'Stingray In The Heart' Review, 2008:
Legendary sideman produces remarkable solo opus
They do say that in this business (that's the business of show - keep up), it's not so much what you know as who you blow know. If there's any truth whatsoever to that, it's a surprise that I'm not more aware of Moris Tepper, as he seems to have played geetar for everyone who's anyone including but not limited to such luminaries as Frank Black, Tom Waits, Captain Beefheart and Robyn Hitchcock.

''Stingray In The Heart'', Moris' latest solo offering, is clearly informed by his musical CV, and spewed out as more of the twisted Americana that some of the aforementioned have become noted for producing. There's the same open, anything-goes, broken approach to composition dEUS nicked from Beefheart, touches of Tom Petty-style croonery, and an overall individuality and oddness to his work which makes those of us who value the unusual in music extremely excited.

From time to time, this album will test you as the listener; but if you persist, it will pay handsome dividends. Tepper is quite a find, and one I won't be taking my eye off for some considerable time.

By: Eddie Thomas
From MOJO Magazine: 'Stingray In The Heart' Review, 2008:

From Q Magazine: 'Stingray In The Heart' Review, 2008: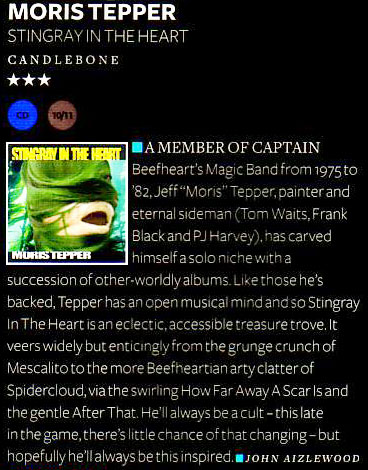 ---

From MOJO Magazine: 'Head Off' Review, 2004:
From Ireland's Evening Echo: 'Head Off' Review, July 15, 2004:
Pitchfork Media 'Head Off' Review, September 23, 2004:
Moris Tepper Head off by Johnny Loftus

Moris Tepper proves a chameleon on Head Off, taking on and turning out the traditions of folk, blues, and brash, bleating exploration. Multiple avenues and dusty dirt roads intersect with Tepper's muse, which is fitting for a guy who played guitar with Captain Beefheart on Bat Chain Puller and has gone on to collaborations with types like Frank Black and Robyn Hitchcock. Head Off takes its time exploring those roads and avenues, guided at all times by Tepper's soulful groan, which itself transforms from Waitsian mutter (another past collaborator) to crumpled speaker cone whinny with steady-as-he-goes regularity. The result is a record that threatens to ramble but rarely does, and tempers its moves toward mature singer/songwriter territory with a handful of busted, freaky, and lurching howls.

Lots of things come to mind during this flickering filmstrip. "The Sky Was Grey" is a few brief frames of plaintive, treated guitar and space-age sound effects, reflecting the shadowy new-century gothic of Jim White. Then there's "Ricochet Man", which, co-written with Mr. Don Van Vliet himself, offers two minutes of scatterbrained six-string, clattering, tumbling rhythms, and homemade vocal reverb. Here, all of a sudden, Head Off approaches the battered downtown sounds of Beefheart descendents Skeleton Key; Tepper holds it all together with an evocative vocal, and characters rendered just enough for us to imagine the scene. We might not know exactly what the Ricochet Man's going to do for us, but if his gifts are as potent as the song, then an ether bender isn't a far-flung possibility.

It's this sharp songcraft that keeps the album's various parts rolling more or less succinctly down the pavement. While tense opener "Bag of Nails" seems sheared off the Pacific Northwest's noisier side, the resulting title track is a robust psychedelic country rocker led by harmonica and robust acoustic guitars. "Why don't you stop thinking about it and take your head off?" Tepper says, and it's good advice as the album rolls on. "Mrs. Bodean" tells a tale of bad blood and horse's bones; there's some morbid, sordid shit happening in its out-of-the-way places, but the tale unfolds on a melody full of both sadness and hope. There are no real facts, only clues left behind, but they're enough for some provisions and gas, to get us through Head Off's at once shuddering and graceful final act.

The aptly-named "Sourpuss" and its accompanying "Fast One" mark the manic, noisier side of Tepper that the earlier "Ricochet Man" shakily pointed to. "There's a banging in my head like there's something loose," he sings, as the electric guitars make sounds like chiggers and the percussion stomps and crashes. "Fast" employs loops and layered vocal personas from Tepper to suggest the disjointed thought process inside that broken brain. Still, as with the rest of Head Off, these exploratory pieces are played off gentle, evening-fire acoustic tracks. "Any Left" is one of these: Its coals fade to black shortly after it starts, but then a scratchy calliope whirs to life, taking Head Off out on a wistful, black and white note. It's like finding footage of fair goers dancing on the Midway at World's Columbian Exposition of 1893. Head Off might not bring everyone the same sort of imagery, but it will keep you guessing, and that trait is pure gold in Frownland.


From NME Magazine: 'Head Off' Review, 2004:

---

The L.A. Weekly from 18 August 2000 had this to say: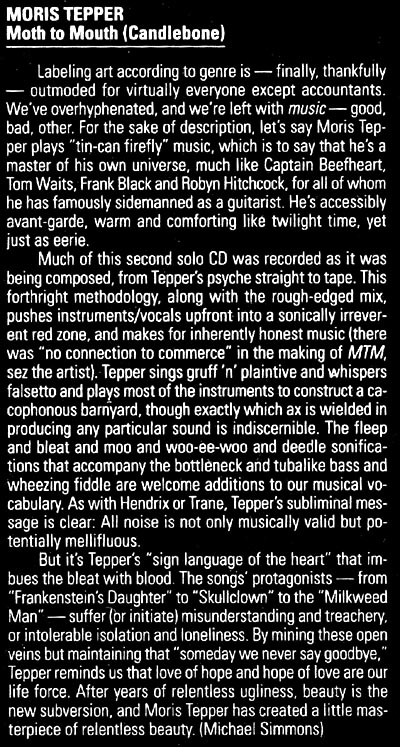 ---
From Britian's Mojo Magazine, the July 2000 issue had these words:
From Birmingham's What's On: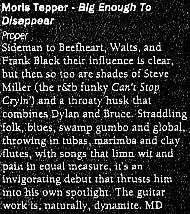 From Classic Rock, August 2000:
From U.K.'s The Wire, July 2000:


MUSICIAN
September 1995 Reviews Jon Young "Attention all lazy A&R people: Anybody who wants to "discover" a swell artist with a minimum of effort should check out Moris Tepper's debut album now. It's familiar in an appealing way, echoing sensitive but manly men like Mellencamp or Springsteen without resorting to imitation. For artier types it's got a seriously zany streak, reflecting his stints as guitarist for such celebrated mavericks as Captain Beefheart and Tom Waits, but avoids gratuitous weirdness. From either angle, this deceptively slick gem crackles with more wit and vitality than most of the well-financed product cluttering the racks today, capturing the contagious joy of an inventive soul at play. The dude dazzles from the git-go. Tepper routinely carries standard situations to tragicomic extremes. Canny arrangements are Tepper's secret weapon. In addition to goofy horns, he spices the mix with marimbas, accordions, concertinas, banjos and the like, recalling the chunky textures of the Band. The romantic tunes are so genuinely poignant that his odder stuff seems truly warped by comparison. Even at his most melodramatic, Tepper never fails to rant with authority. Everything makes sense in its own eccentric way."

OPTION
November/December 1995 Reviews David Shirley "Tepper makes an extremely impressive debut as a singer/songwriter. ....He brings a lighter and gentler touch to songs like "Done Wrong" and "If You Really Want To Hurt Someone," a jangling, accordion-driven ballad that could jump start Rod Stewart's career. Even better is the opening cut, "Can't Stop Cryin'," a galloping, paranoid tale of heartache and ruin."

HIGH TIMES
December 1995 Discs Chuck Crisafulli "Tepper's tunes are as beautiful and powerful as they are crazy and playful, but possessing undeniable emotional depth. Fractured romance fuels the drop-dead gorgeous strains of "Bankshot," "Hurt Someone" and "Done Wrong". Instead of showcasing his psycho-guitar, Tepper brings the songs to life with a vibrant palette. This is a mind-pleasing winner, a smokey collection of jittery lullabies for every freaky insomniac.

ALTERNATIVE PRESS
February 1996 Chris Nickson "When you listen to Moris Tepper you won't be disappointed. If Messrs. Beefheart and Waits were still issuing records like this, the world would be a better place. But they're not, and Tepper is. Now how can you resist something like that? Get it while you can."

PDXS - PORTLAND
Michael Evans Like the career minor league ball player who has bided his time and paid his dues for a shot at the big leagues, Moris Tepper is now more than ready to shuck the "sideman" for frontman" status. Big enough to Disappear is one of the year's best records and it shouldn't vanish, however large it might get."

THE ALBUM NETWORK
May 19, 1995, Adult Rock, John Schoenberger ".......he has begun to create a serious base of fans all by himself. In fact, recent years have witnessed Tepper's emergence as an accomplished songwriter and performer. His music is distinguished by his liberal use of adventurous instrumentation (his arrangements and stage show include tubas, banjos, pennywhistles, mandolins, accordions and bagpipes). With Big Enough To Disappear, all of this has now been documented on disc. The album clearly showcased Tepper's songs and his raspy, from-the-gut vocal style. Tepper takes us from well crafted and introspective tunes to cabaret style, bawdy numbers to foot stompin' good timers. Each reflects a different slice-of-life vignette from his own personal adventures, or those of seedy and shadowy characters you might meet in a dive or on the waterfront. One can't help but notice that Tepper's crooked view of life is more than a little bent toward the humorous and absurd. Further, the album strongly hints as to what his live show must be like. Personally, I like a guy who doesn't take it all too seriously. For Tepper, this works because his music is the product of experience and a lot of talent."

LA WEEKLY
Saturday, August 12 "On his critically lauded new CD. Big Enough To Disappear (Candlebone Records) - amazing pop tunes that poise the playful and eccentric next to the poignant and profound - Tepper makes a persuasive bid for solo acclaim. With his rough-hewn voice and genius for colorful musical settings (tubas, penny whistles, concertinas, marimbas and mandolins get whirled in his mix), Tepper tunes can be mood-soaked, skewed sea shanties and waterfront vignettes, or chilling but witty plaints that will have you crying in your rum."

GOLDMINE
October 13, 1995, Brad Bradbury "Big Enough To Disappear displays some great pure songwriting and, with Tepper's gravely voice and versatility, he has no problem making his material accessible yet unique. As a lyricist he's always interesting, if not downright brilliant."

STROBE MAGAZINE
June-July 1995, John Bitzer "Somehow, local bard Moris Tepper mixes strange cacophonous shrieking with aw-shucks sensitive guy confessions and makes sense out of the very incongruity of it all. If creativity is a minor form of insanity, we should all be as crazy as this."

L.A. READER
June 1995, Jack Briggs "The record is quite stimulating for rock purists who decry today's generally overproduced pop, which often seems more processed than Velveeta. It is primitivism presented with the clarity of cutting edge technology - for once, mixing booth wizardry has served music rather than vice versa."

BAM
September 22, 1995 ++++ (4 stars), Dave Dimartino "Tepper has put together a sturdy set of songs of which he can be duly proud and probably is. Big Enough to Disappear is superbly arranged, and despite its title, precisely the same size as all other CDs!"

THE HARD REPORT
May 19, 1995, Alternative, Bill Hard "In his most manic state, Tepper utilizes the tuba, accordion, concertina, and other unconventional instruments to paint the edgy brush strokes. This CD works well for our panel that lean triple A."



---

From BAM, Undiscovered Issue:
From L.A. Weekly, 16 July 1996: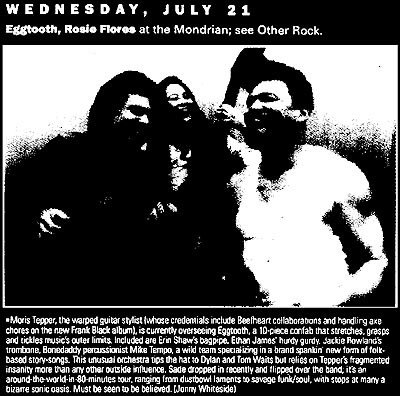 From BAM, Issue 415:

From the San Francisco Bay Guardian, August 25 issue: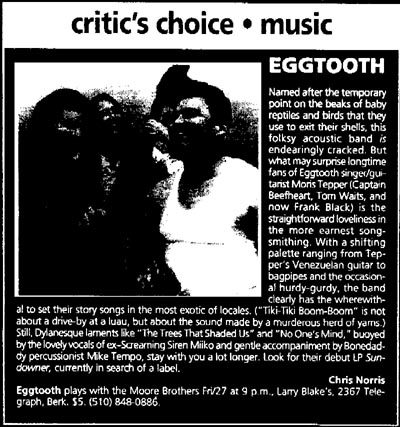 From the Pasadena Weekly:

From BAM, Issue 412:
From the State Press Magazine: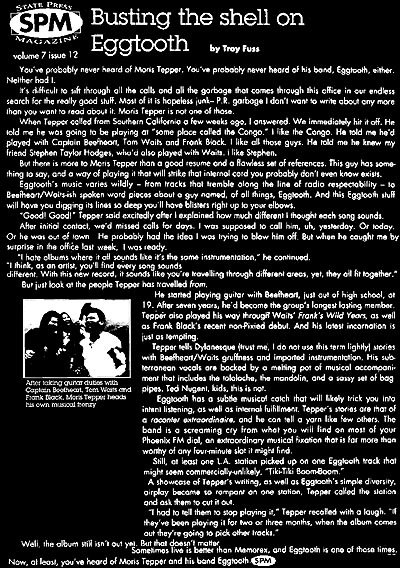 From Phoenix New Times, 10 November 1996: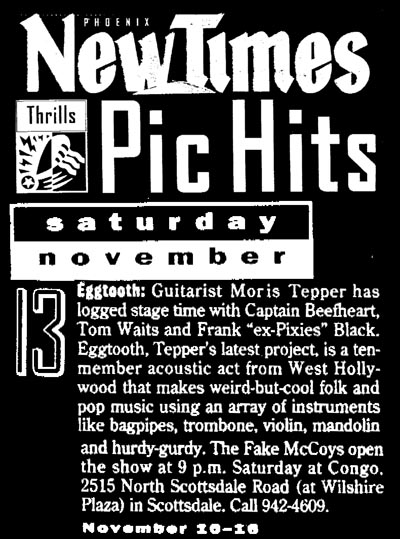 From Easy Week, a Dining and Entertainment Guide:
From Tolucan/Canyon Crier/Valley Life (Los Angeles), 1996:
From L.A. Village View:
From Music Connection's Local Notes, Vol. XVII, No. 16: